It's a great pleasure to show these pictures and documents from the veterans' albums with over 20 contributions from both enlisted men and officers. Enlisted men are represented by 2 turret gunners, Sgts. Adams and Eldridge, and 6 radio-gunners, Sgts. Baribault, Daniels, Hoke, Martin, Seamands, and Ward. The officers include the intelligence officer Lt. Cox and 13 TBM pilots out of 19 who flew off the carrier... Lts. Faull, Githens, Hay, Knickelbein, Lally, Leidecker, Liebich, Misamore and Whalen together with Capts. Patterson, Stalnaker, Webb, and Worlund. Included at the end are some pictures from Sgt. Isaac who trained with -143 in Goleta and from my friend Den Giblin who went to the National Archives.
You'll find the vast majority of the photos depict men and events besides the original contributor. Some photos show up in several albums, the result of sharing photos. Pictures taken by VMF-512 pilots Rod Johnson and Norm Reichwald appear in many vet albums.
The makeup of the individual TBM crews (pilot, turret gunner and radio gunner) are shown at the bottom of the page Men of VMTB-143 (1945).
VMTB-143 Enlisted Man Albums


George 'Press' Adams is from a tiny town in Texas. Press was one a turret gunners who first served in the 'Red Devils' of VMTB-232 and saw earlier combat in the Solomons. After the war Press returned home and served his town in several official capacities including postmaster. He also owns a cattle ranch just outside of town. Press sent a few pictures from his 143 days and later on his daughter Georganna Sonnenberg sent some more, along with the note that Press avidly follows his town's 6-man football team. Press, Georganna and I are pleased to show these... just click on his photo. Sgt. Adams contributed photos of other enlisted men which are shown on the page Men of VMTB-143 (1945).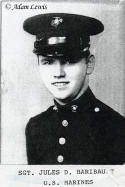 Julius 'JD' Baribault was in boot camp Dec 7, 1941. He was assigned to aviation communication and served stateside years prior to going to flight duty in VMTB-143. He arrived aboard the USS Gilbert Islands in August 1945 along with a small group of replacements and was put in Lt. Cromwell's crew as Sgt. Boyd's replacement. Thanks in part to Lt. Cromwell's strong recommendations, JD was admitted to the U. of Illinois where he earned degree in Mechanical Engineering. He worked in Louisiana for 37 years in the oil business. I found Sgt. Baribault in July 2004 and enjoyed a number of conversations and mail exchanges. Sadly Sgt. Baribault died suddenly in October 2004. Rest in peace my friend. Please click on his picture to see the photos.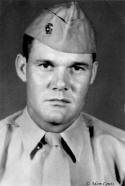 Elmer 'Dan' Daniels wife Louise kindly sent some photos for this site. Dan arrived aboard the carrier in the same group of replacements as Sgt. Baribault. Prior to this Sgt. Daniels had served in SBDs on Guadalcanal. Louise remembers him talking about the Japanese shelling, including the incident Oct 14 when many officers in VMTB-141 were killed (see web page 'Tom Liggett'). Dan stayed in the Marines for 20 years, retiring in the early 60's. Sgt. Daniels passed away a few years ago. Click on his photo to see the other pictures.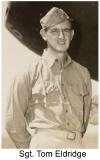 Thomas 'Tom' Eldridge was in the group of aircrew sergeants that came from VMSB-232. Tom sent 2 pictures - one of his flight crew and one from 1944 while training for VMTB-143. The latter helps fill in the gap for pictures of the flight crew and larger images of some are shown in the VMTB-143 enlisted man's collage. After the war Tom went to work for North American Aviation, later Rockwell. He was a Manufacturing Project Administrator for the F-86, F-100 and B-70 programs. Please click on Tom's picture to see the 2 photos.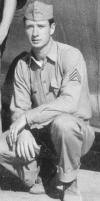 Charles 'Charlie' Hoke came to VMTB-143 from VMTB-232 the 'Red Devils'. After the war he joined the Air Force and rose to the rank of full colonel where he played a key role in the installation of strategic missiles and the functioning of SAC headquarters in Omaha. He sent some interesting pieces including the VJ-Day announcement and a newsletter from the Gilbert Islands. Later on he visited with me and left a few more photos for the web site. Get there by clicking on his picture.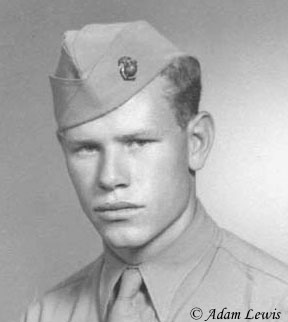 Edward 'Ed' Martin was one of the sergeants who had already served in the Pacific Theater as a member of VMSB-232, the famous 'Red Devils'. Ed sent some nice pictures including a few reunion photos which are included here. The invasion of Balikpapan was the last invasion of WW2 and Ed included a photo of the wartime map of the area. Several of the photos in the enlisted man's photo gallery are courtesy of Ed (see the page VMTB-143 1945/2003). Sgt Martin was radio-gunner and he sent a few shots of his space taken in the TBM at the Admiral Nimitz Museum, Fredericksburg Texas. After the war Ed worked 32 years for Capitol Steel Co in Oklahoma. You can get to Ed's photos by clicking on his picture.

Alfred 'Eddie' Seamands was a radio-gunner in VMTB-143. Eddie enlisted in January 1943 and was assigned to VMTB-232, the Red Devils. After many combat missions in the Pacific he was transferred to VMTB-143 and reported for training at MCAS Goleta, CA. Staff Sergeant Seamands was on the Gilbert Islands for the 1945 tour described on John Lally's page. Eddie sent some of his personal photos and it's a pleasure for us to present them here. One special note of interest... VMF-512 had 2 photo reconnaissance F6F-5P Hellcats assigned to it and you'll see one in Eddie's pictures. After the war Eddie bought a floral shop and managed the business until he retired. Sgt. Seamands passed away December 8, 2007. Rest in peace, friend. Get to Edie's pictures by clicking on the photo.

Con Ward sent a few pictures including one from a 1990's reunion. One shows some of the sergeants from VMTB-232 who were later assigned to VMTB-143. It's a great shot of some long-time buddies enjoying each other's company. What could be better? Get there by clicking on the picture. I was delighted to receive one of the reunion T-shirts from Con. I'm wearing it in the photo on the home page.
VMTB-143 Officers' Albums


Robert 'Bob' Cox was the intelligence officer in VMTB-143. Prior to joining the Marines in March 1944 he had a law practice in Oklahoma City. His academic career was fast-tracked as he graduated from High School at age 15, spent 3 years at the University of Oklahoma (OU) before entering OU Law School at 19 and at only 21 he began practicing law in Oklahoma City (1931). After basic training he attended the USMC Aviation Group Officers School, USAAF Combat Intelligence schooling and Combat Information Center training. He also accompanied the squadron to North Island in 1945 as they trained at the Navy's Anti-Submarine School. After the war Lt. Cox re-entered civilian life in December 1945 to resume his law practice. His daughters Bettie Lu, Ann and Carol loaned me their father's scrapbooks to copy. Most scrapbooks I've seen have a large percentage of photos and a few papers but Lt. Cox's are the opposite. His papers shed light on several aspects of the times and you'll find relevant information scattered throughout these pages from his scrapbooks. Lt. Cox's daughters and I are pleased to present these images which you get to by clicking on his photo. Robert L. Cox was born in Duncan Oklahoma in 1909 and passed away in 1995.

Thomas 'Tommy' Faull was a pilot and was always described as a nice guy by his colleagues. He was famous for bringing the squadron mascot Molly the black bear to Santa Barbara in 1944. Thomas Faull was recalled for the Korean war and flew corsairs. In 1953 his plane crashed on takeoff and his spine damaged, ending his flying career. His son Tom sent along some pictures which you can see by clicking on his photo. The original document awarding his WW2 medals is included and shows the details for the award of the 3 battle stars given to the carrier and all its veterans. Thomas Faull died in 1981.

Daniel 'Dan' Githens' wife Jeannie kindly let me borrow the family photo albums. Their son Paul Githens made a copy of Dan's pilot logbook. After Dan earned his wings he was assigned to ferry planes from the Douglas plant in Santa Monica to various airbases around the US. He went sent to Goleta in June 1944 to be part of VMTB-143. It was a relief to be assigned to a permanent squadron! Later Dan flew Corsairs off carriers in VMF-312 (The Checkerboards) in Korea. After Korea Dan continued his education in the filed of electronics, earning an MS. He served at the Pt. Mugu Test Center and the Navy's Burea of Ships until retirement after 22 years of service. Dan Githens died in 1987. Jeannie, Paul and I are pleased to present these photos. Click on Dan's picture to get there.

William 'Billy' Hay graduated from Hampden-Sydney College in 1942. After getting his wings Billy was assigned to VMS-3 at St. Thomas, Virgin Islands, where he flew the OS2U Kingfisher and SBD Dauntless on anti-submarine patrol in 1943-44. He was sent to Goleta in June '44 to become part of VMTB-143. He made the 1,000th landing on the Gilbert Islands in June 1945. After the war he earned a law degree, became a judge, and rose through the ranks of the Virginia court system to become one of the top judges. Please click on his photo.

Harry Knickelbein earned his wings and trained on SBDs. Before the assignment to VMTB-143 Harry flew ferry missions from Vultee and Douglas which moved the SBDs along the supply chain. After service in WW2 Harry was called up for Korea. He went to Cherry Point, got checked out in the F6F but shortly went into the new field expanding field of helicopters. After leaving the service he started Los Angeles Airway, a helicopter flying service. Later he owned a marina in the foothills of the Sierras where he rented a fleet of boats to trout fishermen. Get to his photos by clicking on his picture.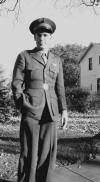 John 'Jack' Lally's friend Bill Hunteman scanned some of Jack's pictures and sent them to me for the web site. These came after I posted Capt. Lally's initial set of photos on "John Lally's TBM" page. Bill sent better copies of some, which are included here too. Please click on Capt. Lally's photo to see those pictures.

Jack Lally sent a second group of pictures via his VMTB-143 buddy Fritz Liebich. Jack and Fritz are old pals who flew together in 1944 and have maintained a friendship ever since. Jack was the photographic officer and this contribution includes air-to-air photos of TBM formations, many officers and enlisted men, and Shellback Day in the pilot's ready room. Capt. Lally is mentioned above (with Bill Hunteman) and has his own page on this website. To see Capt. Lally's latest photo contribution please click on his photo of the TBM.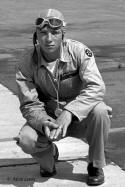 Edward 'Ed' Leidecker entered the service in 1940 and earned his wings at Pensacola as an enlisted man. He's named in the book Enlisted Naval Aviation Pilots (Turner Publishing Co. 1995). Thanks to Ed's wife Mary we can show several nice photos of Ed from his training days at Pensacola and his USMC career in VMSB-232 (1943), VMTB-143 (1943-4) and VMTB-143 (1944-45). His early days in combat were as a flying sergeant but he was promoted to lieutenant before the cruise of the Gilbert Islands. In an example of a crew that stayed together for a long time his log book shows he flew with gunners Stanley Danielson and Roger Hansen for 2 years. After the war Ed had a full career as an Eastern Airlines pilot. Edward B. Leidecker passed away in 2002.

George 'Fritz' Liebich and Jack Lally have been lifelong friends. Fritz and Jack grew up near each other, earned their wings in 1943 and served together in VMS-3 and VMTB-143 and still see each other often. After the war Fritz returned to the family brewery business and is a certified Brew Master. Fritz's WW2 photo albums have sections that relate to the tour on the Gilbert Islands. His son-in-law Mike Christian scanned them and sent me a CD of wonderful photos.
In my experience it's rare to see nose art on Avengers and Corsairs. Fritz has nice ones of the TBMs of VMTB-143 and the Corsairs of VMF-512 from his time on the carrier. Fritz, Mike and I are pleased to present the photos of the men and planes on the USS Gilbert Islands, 1945. Click on the photo of Fritz to see the pictures.
Kelvern 'KO' Misamore was killed in action when his TBM was shot down June 12, 1945. After the war the US government went to Sakishima Gunto and recovered the remains of the crew and now the three are buried together in a common grave at the Ft. Scott National Cemetery, Kansas. His nephew Doug Misamore sent pictures of KO and his 2 crewmen and the obituary from his hometown paper The Republican Courier of Findlay, Ohio. Please click on Lt. Misamore's photo.

Arthur 'Bill' Patterson earned his wings in February 1943. In May he was sent to Goleta where he joined newly created VMTB-134. After work-up the squadron was sent to fight from bases on New Georgia, Bougainville and Green Island. In mid-1944 he was assigned to VMTB-143, sent to Goleta again but this time to get carrier qualified. Sgt. Press Adams was in Bill's crew and tells me he was an very, very good pilot and all around great guy. After the war Bill started his own construction company and retired at the age of 79! Capt. Patterson sent a nice set of pictures relating to his experience in VMTB-143 which can be seen by clicking on his picture. I asked him how he got "Bill Patterson" from his given name "Arthur H. Patterson". His reply: "Daddy said I was born on Oct 1 and arrived with the rest of the bills."

Bill Patterson already made a photo contribution (above). More recently he lent me his photo album and I was surprised at the freshness of the prints ... looking as good the day they were made. I learned from the album that he and Robert Cromwell were two of the original USMC 'Rockettes'. Please click on his photo to see Capt. Patterson's 2nd photo contribution.

Henry 'Casey' Stalnaker had seen combat in the Solomon Islands in VMTB-143 before the 1945 Gilbert Islands cruise. It's through the courtesy of his grand-nephew Clark Stalnaker that I can display these nice photos, some taken during the campaign in the Solomons. Casey left the Marines after the war but missed it and rejoined. He was killed in a plane crash at Quantico in 1948. Please click on the picture to get to Capt. Stalnaker's photo page.

Casey Stalnaker was a TBM pilot and flight leader aboard the USS Gilbert Islands. His daughter Sheryl McDonald sent a large contribution of several photo albums and service papers. I would be remiss if I did not mention Dan Rapp who researched the 1943-44 history of the squadron, and Sheryl's uncle Mike Geremia. Dan and Mike contributed to this page - thank you. The tour of this material content takes you from 1939 to 1948 and touches on all his stops along the way. In June 1939 Casey graduated from North Georgia College. He had already enlisted in the Marines in April of the same year as a private. He served 2 years then returned to civilian life where he worked as a brakeman for the Southern Railroad, earning the inevitable nickname 'Casey'. In Oct. 1941, just before Pearl Harbor, he signed up again but this time went to flight school, earning his wings in 1942. After TBM training at Ft. Lauderdale Casey was sent to the Solomon Islands as part of VMTB-143. When 143 reformed in June 1944 in Goleta he stayed in the squadron and was named Executive Officer, a post he held until war's end. After the war now Capt. Stalnaker returned to civilian life and a job on the railroad. This was not the life for him so he resigned his commission in the Reserves and joined the regular Marines. His new rank was Staff Sergeant and he was sent to Quantico where he died tragically in an airplane accident Dec 2, 1948 while a passenger observing close air support exercises. Sheryl, Mike, Dan and I are pleased to present this collection of his photos and papers. Please click on Casey's picture.
Morgan Webb was a Guadalcanal veteran and one of the flight leaders in VMTB-143 on the Gilbert Islands cruise. Morgan was called up for Korean service, like many WW2 vets who were in the reserves, and there commanded VMF-113. There's a picture of Major Webb from this later period on his photo page. After the war Morgan earned a degree in botany and taught at the collegiate level until he retired. Morgan passed away several years ago. His widow Mrs. Eugenia Webb kindly sent some photos for the web site. Please click on the picture.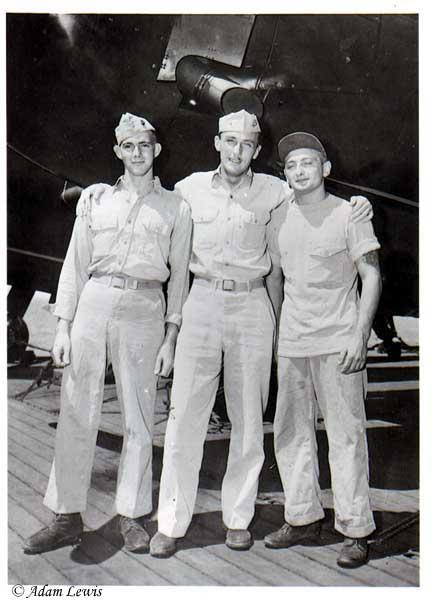 Francis 'Frank' Whalen entered the Service in 1942. He earned his wings in Oct '43 at Corpus Christi TX. Before being assigned to VMTB-143 he spent time at the Naval Air Stations in Deland Florida and San Pedro California. Lt. Whalen sent some pictures home during his training days in Goleta (Santa Barbara) and while aboard the carrier. They were annotated at the time which makes them a valuable part of the historical record. Sent courtesy of his daughter Carol Restivo and wife Margaret please click on the picture of his crew to see Lt. Whalen's photographs.

John Worlund was already in the Marines when the war started. He went to flight school in early 1942 earning his wings the same year. John served in VMTB-143 in the Solomons campaign before being sent to Goleta in June 1944 as the squadron was reformed. He became the CO on January2, 1945 a position he held until after the Japanese surrender. John stayed in the Corps after the war and specialized in flying photo-reconnaissance. His recon planes included the F4U-5P Corsair, F7F-3P Tigercat and the F2H-2P Banshee. In the Banshee he flew secret missions over China and Russia from Korean base K-3 during and after the Korean War. He retired in May 1964. Please click on John's picture to see his photos.
Other photo contributors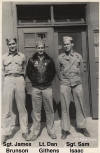 Sam Isaac was in the TBM crew with Jim Brunson and Dan Githens. He opted for SBDs and didn't go out on the carrier but he sent a nice photo of himself with the others from his VMTB-143 days. Sam enlisted in Jan '42 at the age of 16, trained as a gunner and went to Midway in May '42 as part of Maj. Henderson's squadron, VMSB-241, as a back-seater in the SBD-2. There's just this one photo.

Den Giblin and I went to high school, college and graduate school together. My longtime friend lives close to the US National Archives and gladly did some research for USS Gilbert Islands photos in their still picture archives. We're pleased to present this selection of photos, including some remarkable action shots. Thanks, Den! Click on Col. Campbell's picture to get there.
If you are able to make a contribution to the photo history of this squadron I ask that you contact me through the email link on the home page.