MCVG-2 is shorthand for 'Marine Carrier Air Group Two', the leading aviation unit on the carrier USS Gilbert Islands. Sometimes I see it written as MCAG-2. Its twelve USMC officers are depicted in this photograph and named below. Thanks to the contributors six of the 12 can be identified in the photo. If you can put another face with a name please let me know via the email link on the home page.
| | | |
| --- | --- | --- |
| Lt. Col. | William R. Campbell | CO, Marine Air Group 2 |
| Capt. | Eldon Fulwood | CO, Marine Carrier Air Service Detachment-2 |
| Capt. | G.L. Allen | Assít. Air Officer |
| Capt. | Marshall R. Tutton | Assít. Landing Signal Officer |
| Capt. | John L. Fidler | Landing Signal Officer |
| Capt. | W.L. White | C.I.C. WO |
| 1st Lt. | A.H. Jones Jr. | Assít. Flight Deck Officer |
| 1st Lt. | W.F. Simpson Jr. | Material Officer |
| 1st Lt. | A.C. Dorsey | Engineering Officer |
| 1st Lt. | T.B. Campbell | C.I.C. WO |
| 1st Lt. | S.N. Chase | Ordnance Officer |
| 1st Lt. | R.G. Griffing | Radar-Radio Officer |
I have contributions from 3 veterans albums: Col. Campbell and Captains Fidler and Fulwood. I welcome any inputs you have.

William 'Soupy' Campbell commanded the USMC Air Group on the USS Gilbert Islands. As the ranking Marine on the carrier he was responsible for the performance, maintenance and well-being of the 2 squadrons. I've heard nothing but good things about Col. Campbell from the other Marines. The enlisted men told me he saved them from having to perform menial tasks on the carrier such as scraping paint. And they recall the time he went to bat to be sure those on patrol would get fed after they returned from missions even if the dining room was officially closed.
Col. Campbell was designated a Naval Aviator and commissioned a Marine Second Lieutenant in 1936. He completed his first war tour flying fighters from Espiritu Santo and Guadalcanal. Col. Campbell was a seasoned fighter pilot having served in VMF-251 on Guadalcanal from October 1942 until January 1943 actually serving as the CO for brief period in December 1942. His commands included MCAG-2, MAG-14 and MAG-33. Before retiring his final tour of duty was as Commanding Officer of the Marine Corps Air Station, Kaneohe Bay, Oahu, Hawaii. Col. Campbell was awarded the Distinguished Flying Cross with two gold stars, the Air Medal with one silver and four gold stars, the Navy Commendation Medal and the Purple Heart. He retired from active duty in Hawaii in 1963 as a 2 star general. He lived in Kamuela on the Island of Hawaii from 1971 until his death in Dec 2000. Courtesy of his son Ron Campbell we can show some pictures of Col. Campbell. Please click on his picture.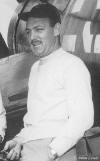 John Fidler was the LSO on the USS Gilbert Islands. He earned his wings in 1942, and in 1943 was posted to VMF-214, the "Swashbucklers", where he flew the F4U Corsair. After 214 was disbanded (it was later reformed by Maj. Boyington) John returned to the states. He volunteered for and completed LSO training and was assigned to the Gilbert Islands. LSOs were required to first be pilots. He and Capt. Marshall Tutton, the assistant LSO, launched and landed the planes. After the war he represented the Fulton Company in the California/Nevada/Washington/Oregon region. John contributed photos of Capt. Tutton and himself which you can see by clicking on his picture.

Eldon 'Fred' Fulwood was a captain on Col. Campbell's staff in charge of the Marine Carrier Air Service Detachment (MarCASD-2) on the USS Gilbert Islands. His unit had overall responsibility for the maintenance and repair of the aircraft. Capt. Fulwood enlisted in the Corps in 1939 and was promoted to lieutenant in 1941 after 31 months of enlisted service. He attained the rank of captain in 1944, altogether a rather swift rise through the ranks. Before coming aboard the USS Gilbert Islands his prior wartime service was on Guadalcanal where he earned 4 combat stars while assigned to Marine Air Group 14. After the war he stayed in the Corps in various capacities, retiring as a major in 1966. Eldon Fulwood passed away in 1986. His son Scott Fulwood sent many nice photos spanning his father's career. Please click on the picture of Capt. Fulwood to see them.