I am very grateful for the contributions from the veterans and their families, especially Ron Spjeldet, Mrs. Rosemary Reichwald, Harry Williams, Jeff Justice, Tom Liggett, Jimmy Crawford's relatives Donna and Michelle, Mrs. Harriet Johnson, Flip Coyne, Virgil Koenig and Jack Moss. Contributions have been arranged alphabetically.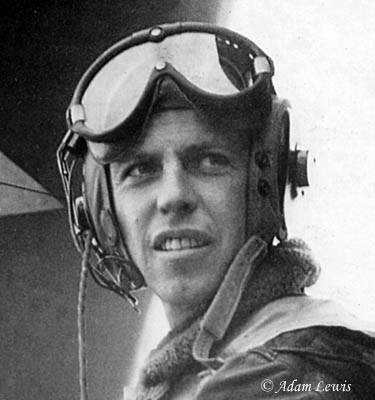 Hubert 'Flip' Coyne sent a few photos along including a great one of him on the wing. It's one of my favorite. After the war Flip and fellow 512 pilot Wayne Klever started Washington Skyways in Ephrata, Washington. After a few years he went to Alaska flying for the Coast and Geodetic Survey creating maps of the uncharted territory. After that he started a real estate company north of Seattle which he owned for 40 years. Flip Coyne passed away January 8, 2007. Please click on his picture to see the photos.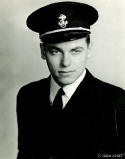 James Crawford was killed in action July 1, 1945. His sister Donna and niece Michelle collaborated to send a CD of images from the family albums which we are pleased to show. Please get to them by clicking on his photo.
Rod Johnson had a large picture collection from his WW2 days. His wife Harriet kindly let me scan

them, by far the largest set of photos I've seen from VMF-512... over 150 images are on his photo album page or linked to it. Many of these photos were duplicated and given to some of the others so if you see one of these in another photo page (including VMTB-143) it probably came from Rod's camera. The vets remember he was quite the camera man. After the war Rod went into the carpentry business working for himself for about 15 years. For the next 24 years he worked for other contractors and then finally went to work in the retail building supply business, retiring in 1989. In 1990 Rodney Johnson suffered a massive stroke and passed away in 1996. Please click on Rod's picture to see this large collection.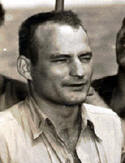 Jeff Justice provided a large group portrait and some other photos. After the war Jeff stayed in the active reserves until 1955. He was in the poultry business until 1980 then went into ranching with his son. He owns a plane and still loves to fly. Please get to Jeff's photos by clicking on his picture.

Virgil Koenig was in a replacement pool on Guam when he was selected to go aboard the USS Shangri-La. Their losses were high and the need for immediate replacements led to the unusual situation of Marine pilots flying in Navy squadrons. Likewise the losses and transfers in VMF-512 created a need for replacements. Col. Campbell knew about the Marines in the Navy squadron and asked for them. As a result all 5 USMC pilots (see VMF-512 page) were sent to the Gilbert Islands in late June. After the war Lt. Koening started a crop dusting business in Casa Grande Arizona. Except for 18 months in Korea in the famed VMF-513 'Flying Nightmares' night fighter squadron Virgil worked in Casa Grande until until 2004. His business ventures also included Piper salesman and, with a crew of about 15 instructors, he trained over 2000 USAF pilots during the Viet Nam war. Virgil Koenig passed away September 4, 2006. Please click on his picture to see his photos.

Jack Moss was originally from McCook Nebraska. After the war Jack stayed in the Marine Reserves and made Captain before the Korean War broke out. Called up to active duty he flew close air support missions in Corsairs and Skyraiders from base K-6, eventually making major as CO of VMFA-332. After WW2 Jack earned a degree in architecture from Kansas State University then went to work for the Dupont Co. in Delaware as an engineering architect. After many years there he retired and became the city architect for Garden Ridge TX near San Antonio where he now lives. Jack sent a collection of his photos, his King Neptune certificate for crossing the equator and both of his WW2 flight jackets - the winter (leather) one and the lightweight cotton summer jacket. I was touched by his generosity. Please click on Lt. Moss's picture to see to the photos.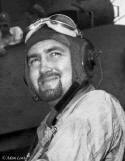 Norm Reichwald's wife, Rosemary, provided a large collection of photos. Norm took a lot and annotated them at the time. Photos like this are valuable since they're so well documented. Norm stayed in the Marine Corps for 26 years serving in Korea and Vietnam. Norman Reichwald passed away in 1998. Please click on his picture to see the photos.

Ron Spjeldet sent photos from his album and we are pleased to show them here. He sent a negative of the large squadron photo which accounts for the excellent quality of the image. Ron stayed in the Marines for 10 years of active service and another 29 in the reserves, retiring as a Lt. Col. Please get to Ron's photos by clicking on his picture.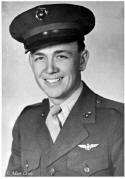 Harry Williams made a unique contribution by sending his map of the Pacific which tracks the complete 1945 journey of the USS Gilbert Islands. Details from the map form an essential part of the page which documents the 1945 cruise. Harry sent notes from his log book and other recollections. See the photos by clicking on his portrait.