This page summarizes the 1945 journey of the USS Gilbert Islands, CVE-107. It starts when she was commissioned in February. The ship left San Diego in April and arrived off Okinawa in May where the 2 USMC squadrons VMTB-143 and VMF-512 started combat operations. In performance of their duties VMF-512 lost 2 Corsair pilots: 2nd Lt. Edgar T. Miller and 2nd Lt. Logan M. White Jr. and Hellcat pilot 1st Lt. James B. Crawford while losses in VMTB-143 were TBM pilot 1st Lt. Kelvern O. Misamore and 3 aircrew: Sgts. William C. Boyd Jr., Otto R. Schaefer and Chancel A. Hall. Let us remember their sacrifices.
Harry Williams, a pilot in VMF-512, loaned me his WW2 map with the track of the Gilbert Islands marked on it. Other reference materials used to create this page include:
* The War Diary of the USS Gilbert Islands, Feb - Oct 1945 (U.S. National Archives)
* USS Gilbert Islands (CVE-107) Ship's History, by Lt. Ray Vandervoort, ship's navigator (Naval Aviation History Office)
* Pilot Logs of Fritz Liebich, Dan Githens, Ed Leidecker, John Worlund, Bill Patterson, Morgan Webb, all of VMTB-143, and Tom Liggett and Arlo Southwick of VMF-512.
* And, most importantly, the photo contributions from the veterans and families already named on the other pages.
Summary 5 Feb to 16 May
The first 2 months after commissioning were filled with shakedown cruises, taking aboard the Air Group, and repairing the minor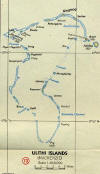 problems discovered during the shakedowns. Eventually the Gilbert Islands sailed for the Pacific Theater on April 12, a day all the vets remember because president Franklin Roosevelt died that day. The first stop in the western Pacific was Ulithi Atoll on May 14-16. The Ulithi anchorage was large, about 5 miles across, and protected on all sides by a reef. (The maps are thumbnails, so just click on one to see it full size.) It became the major anchorage for the entire US Pacific fleet. Mog Mog is a small island along the northern rim where you could let off a little steam and get a cold beer.
Some Daily Details:
| | |
| --- | --- |
| 5 Feb | Ship commissioned at Todd Shipyards, Tacoma WA. |
| 23 Feb | Arrived Alameda Naval Air Station (NAS) CA |
| 24 Feb | Took on its first deck load of planes |
| 27 Feb | Arrived San Diego NAS. Unloaded planes. Embarked Marine Carrier Aircraft Service Detachment 2 (MCASD 2), Capt. E. Fulwood USMCR commanding. |
| 28 Feb–5 March | Shakedown cruise and training exercises |
| 6 March | Embarked Marine Air Group 2 (MCVG-2) under Lt. Col. Wm. Campbell (see picture). Squadrons are VMF(CVS)-512 under Maj. Blaine Baesler and VMTB(CVS)-143 under Capt. John Worlund. |
| 11 March | Took aboard aircraft, rockets and planes. |
| 16 March | 2nd Lt. Norman Reichwald in F3A-1 (BuNo 11257) made a forced water landing due to engine failure. Pilot recovered uninjured. (First plane accident. The F3A-1 is a rare Brewster-built Corsair. Only about 700 were built and there are no known intact examples today.) |
| 23 March | Disembarked Marine Air Group to MCAS Santa Barbara |
| 25 March–7 April | Ship worked on at Naval Repair Base San Diego |
| 11 April | Embarked MCVG-2 |
| 12–18 April | Underway for Pearl Harbor |
| 18 April | Arrive Ford Island, Pearl Harbor |
| 19 April | Planes flew to MCAS Ewa, Oahu their temporary base. |
| 20–29 April | Various training exercises, e.g., air gunnery, in waters around Hawaii. |
| 29 April | Embarked squadrons from Ewa. |
| 1 May | Took squadron planes aboard. |
| 2 May | Underway for Ulithi Atoll |
| 10 May | Launched 2 TBMs to deliver mail to Eniwetok Atoll |
| 14–16 May | Dropped anchor at Ulithi. Shore leave on Mog Mog. (Jack Lally celebrating his birthday May 15 on Mog Mog.) |
Summary 16 May to 31 May
The ship got underway for Okinawa

in mid-May, arriving in the combat zone about May 23. It was a bad day as a VMF-512 Corsair crashed into the sea and the pilot, 2nd Lt. Edgar Miller, was lost. For the next week the Marine Air Group carried out attacks against targets on Okinawa in direct support of the Marines on the ground. The Air Group had trained long and hard in Goleta, VMTB-143 for almost a year, just for these types of missions. The Corsairs used strafing and 5" rockets, while the TBMs dropped bombs and fired rockets. On May 31 Capt. Thomas Liggett of VMF-512 shot down a Dinah, the air group's only air-to-air victory of the war.
Some Daily Details:
17–20 May

Underway for Okinawa-Shima, Okinawa-Gunto, Nansei Shoto. (This appears to be the full, formal name of Okinawa Island.)

21 May

Provided local Combat Air Patrol (LACP) and Local Anti-Submarine Patrol (LASP). (These are the first entries for wartime aviation tasks. I won't mention LACP and LASP all the time, although Pilot Logs indicate these missions were flown almost daily.)

23 May

2nd Lt. Edgar Thomas Miller, USMCR, was killed when his F4U-1D crashed into the sea 10 miles from the carrier. He was on LCAP. He is the first USS Gilbert Islands pilot lost. Maj. Elton Mueller skipped the barriers while landing. His F4U-1D and the one he crashed into were lost overboard. Miraculously, Maj. Mueller was picked up unhurt. (VMF-512 pilot Ron Spjeldet tells me the parked Corsair was his "Hard Hearted Hanna".)

24 May

Provided LCAP and LASP

25 May

Provided CAP and direct support group strikes at Okinawa.
("Direct support group strikes" is the term for an attack on ground targets in support of the Marines on the ground. I've seen 7 pilot logs. Date of first strike for the individual pilots is May 25, 27, 29 and 31.)

26 May

Provided LCAP and LASP

27 May

Provided CAP and direct support group strikes at Okinawa.
Transferred to Third Fleet.

28 May

Provided CAP and direct support group strikes at Okinawa

29 May

Provided CAP and direct support group strikes at Okinawa

30 May

Provided LCAP and LASP

31 May

Provided CAP and direct support group strikes on Okinawa. Capt. Thomas Liggett, VMF-512, while on LCAP in an FG-1D shot down a DINAH, the sole air-to-air victory registered by pilots of the USS Gilbert Islands. (Here's a copy of his Pilot Log.)
Summary 1 June to 16 June
The kamikaze attacks on

the fleet around Okinawa were taking a toll and had to be suppressed. In response the Navy admirals decided to send the USS Gilbert Islands and a few other escort carriers to attack the Japanese airfields in the Sakishima Islands,

a series of islands 200 miles SW of Okinawa. For the first 2 weeks of June the Corsairs and Avengers ranged unopposed over the islands as they pounded airfields, stores, barracks, barges and other targets of opportunity. The rocket raids were made from low altitude, and even the bomb runs were low level glide bombing, not high altitude drops. The ground fire was occasionally accurate and the Marine losses started to mount up. During this time period two TBMs of VMTB-143 were shot down with the loss of 4 lives - 1st Lt. Misamore, and Sgts. Boyd, Schaefer and Hall. And a Corsair was lost along with its pilot 2nd Lt. Logan White.
Some Daily Details:

1 June

Given the mission to bomb and strafe airfields on Sakishima Gunto in company with USS Suwannee CVE-27.

2 June

Bombed Miyara airport and installations on Ishigaki Shima.

3 June

Bombed Ishigaki field on Ishigaki Shima.
VMTB-143 TBM with Lt. Cromwell and aircrew Cpl. Wood and Sgt. Boyd shot down and landed in water 10 miles from target. Cromwell and Wood escaped and were rescued by a PBM 'Dumbo' but Sgt. Boyd was lost when the plane went under. This is the first combat loss for VMTB-143.
Lt. Hay of VMTB-143 makes the 1000th landing on the carrier.

4 June

Bombed Hirara airfield on Miyako Shima. Ship secured from flight ops and prepared for bad weather.

5 June

Steamed to avoid probable path of storm. Held gunnery practice.

6 June

49 sorties on Sakishima Gunto: fired 192 5" HVAR rockets and dropped 71 500 lb. bombs. (From this point on the Combat Diary lists the number of sorties and ordnance expended.) Bombed Ishigaki and Miyara fields. Fishing boat, bridge, truck convoy strafed and rocketed. Attacked Yaeyama sugar factory and towns of Hirage and Ohama.
2nd Lt. Jerome Windham (see photo) ran out of fuel in his F4U-1D and made a forced water landing. Recovered uninjured.

7 June

LCAP and LASP

8 June

24 sorties on Sakishima Gunto, hitting Ishigaki and Hirara field. Hit radar station on Ishigaki Shima, dispersal area on Miyako Shima and structure on Erabu Shima. Hit several ships in bay west of Iriomote Shima.
2nd Lt. Logan Millard White, Jr. of VMF-512 was shot down in his FG-1D and lost.

9 June

20 sorties on Sakishima Gunto. Hit Ishigaki field, Nobara field and Hirara field. Hit AA sites on Miyako Shima, Erabu Shima and Ishigaki Shima. Barges strafed south of Obama Shima and in the bay west of Iriomote Shima.

10 June

Steamed to Kerama Retto and reloaded bombs, rockets, ammo and supplies. 1st Lt. Cromwell and Cpl. Wood of VMTB-143 returned aboard.

11 June

42 sorties - attacked targets in Sakishima Gunto. Ishigaki field and towns of Ishigaki Shima, Miyako Shima and Ikema Shima. Hit barracks on Iriomote Shima.

12 June

44 sorties on Sakishima Gunto. Hit Ishigaki, Harara and Nobara airfields. Hit AA sites on Miyako Shima, Erabu Shima, and Ishigaki Shima. 2nd Lt. Lloyd Steeb was unable to get one wheel down and landed on Okinawa in his F4U-1D.
1st Lt. Kelvern Misamore, and his crew of Sgts. Otto Schaefer and Chancel Hall of VMTB-143 were lost when their TBM was shot down over Nobara field.

13 June

40 sorties over targets on Sakishima Gunto. Bombed Ishigaki and Nobara airfields. Rockets fired at buildings on Ishigaki Shima and Miyako Shima and at barges west of Iriomote Shima. Hit storage facilities on Ishigaki Shima, Miyako Shima and Erabu Shima as well as AA emplacements on Ishigaki Shima and Miyako Shima. A Dinah was destroyed at Hirara field.

14 June

40 sorties against Sakishima Gunto. Used rockets and bombs on Ishigaki field. Rockets fired at bridges, buildings, revetments, AA installations, wharf and barracks on Ishigaki Shima.

15 June
8 sorties over targets on Sakishima Gunto. Attacked trucks, AA installations and installations near runways.

16 June

15 sorties on Sakishima Gunto.
A flight of 7 TBMs and 5 F4Us went to Okinawa for staging and briefing for a proposed strike on Kyushu. Could not get to that target due to low ceiling. Attacked instead Koniya Sea Plane Base on Amami O Shima with bombs and rockets. (Images are from Capt. Morgan Webb's Pilot Log).
The carrier is ordered to proceed to Leyte with USS Suwannee CVE 27, USS Santee CVE 29 and USS Block Island CVE 106.
Summary 17 June to 6 July
In

mid-June they were sent to

the Philippines to refit and then sailed for Borneo. On July 1 - 3 they supported the last allied invasion of the war when Australian forces landed at Balikpapan. The 2 camera-equipped Hellcats assigned to VMF-512 were usually last in line during ground attacks - all the better to photograph the damage. Unfortunately that means the enemy has time to draw a bead and a Hellcat piloted by 1st Lt. James Crawford from VMF-512 was lost on July 1 after it was hit by ground fire.
Some Daily Details:

17-19 June

Sailing for Leyte.

18 June

F6F crashed when tail hook caught a wire but pulled out of plane. (1. Capt. Sharpe's F6F with tires smoking. 2. After hitting the barrier wires and flipping over. 3. Picking up pieces - Plexiglas was a prized commodity.)

19-25 June

replica watches Anchored in San Pedro Bay, Leyte, P.I. for loading, overhaul and maintenance. Shore leave.

26-29 June

Left San Pedro with USS Suwannee, USS Block Island and 6 escort vessels to support landings at Balikpapan, Borneo, Netherlands East Indies.
Crossed equator at 2335 on June 29.

30 June

Arrived off Balikpapan. Made 8 sorties over targets on Swiss Patek Philippe Replica shore.

1 July

26 sorties. Strafed from 75 to 100 trucks and armored vehicles parked along the Samorinda Highway.
1st Lt. James Benjamin Crawford in an F6F was shot down and killed by AA fire.

2 July

Made ready an attack group armed with torpedoes, Tiny Tims, 500 lb bombs and 5" HVAR rockets. Awaiting search results of planes investigating a submarine report of 4 ships near the southern entrance to the Makassar Straits. Search was negative and the support group was released to continue support missions. 12 sorties attacked buildings, oil tanks and troop concentrations.

3 July

20 sorties attacked troops, buildings, vehicles, stores, barracks and Manggar airfield.

4-6 July

Steaming from Balikpapan to Leyte having crossed the equator heading South to North at 2238, 3 July.
Summary 7 July to 31 October
The USS Gilbert Islands put in to port in San Pedro Bay, Leyte, Philippine Islands. She steamed into the combat zone again on August 1. Her planes provided cover for the Third Fleet until the war was declared over Aug 15 when Japan surrendered unconditionally. There was still a lot of training to be done and typhoons to avoid. She spent 10 days around Formosa Oct 14 - 23 in a "Show of Strength" as the Chinese army sent units

to occupy the island but there was still some apprehension over the Japanese forces still there. To preclude any last minute battles the fleet went all out to show their might by providing thick air cover. Fortunately, the local Japanese commanders caused no troubles. Their planes were lined up neatly on the airfields as prescribed.
Some Daily Details:

7-22 July

Anchored in San Pedro Bay, Leyte. Reprovisioning, overhaul, maintenance and drills. Shore leave.

23-25 July

ASW training exercise in Leyte Gulf. Refresher take-off and landings. Rocket and bomb practice. Simulated torpedo attacks on the ship.
Capt. Thomas Liggett of VMF-512 crashed into the sea in an F4U Serial number 87794. (Other sources claim this serial number was an FG-1D) He was picked up by the USS Lee Fox. He suffered a dislocated shoulder, lacerations and contusions. USS Lee Fox collided with the USS Gilbert Islands while returning Capt. Liggett to the USS Gilbert Islands.

26-29 July

Anchored in San Pedro Bay.

29-31 July

Left Leyte headed for Ulithi.

1-4 Aug

Steamed from Ulithi to join Task Force 30.8 in the operating area.

4-10 Aug

Steaming in task unit 30.8.2

10-15 Aug

Evaded a severe typhoon. No damage to USS Gilbert Islands or escort vessels. At 0850 on 15 August the Japanese surrendered unconditionally. Capt. Rice read the message the crew.

15-31 Aug

Supplied the Third Fleet, assembled off the coast of Japan. Maneuvered to escape three separate typhoons.

1-5 Sept

Supplied the Third Fleet. Directed to proceed to Buckner Bay, Okinawa.

5-7 Sept

Enroute to Buckner Bay. Dropped anchor 7 Sept.

7-22 Sept

Anchored in berth B-120, Buckner bay, Okinawa. Left twice to avoid typhoons. Shore leave.

22 Sept

Moved to Hagushi Anchorage, Okinawa.

22-27 Sept

Anchored at berth H-212 and H-206 Hagushi Wan, Okinawa.

27 Sept

Got underway. Planes conducted refresher take offs and landings and simulated attack on Aguni Shima.

28-30 Sept

Got underway. Planes conducted training exercises including bombing and strafing attacks on the task force.

1 Oct

Maneuvered to avoid a typhoon. Anchored in Hagushi Wan, Okinawa.

1-7 Oct

Anchored at Hagushi Wan, Okinawa.

7-11 Oct

Got underway to avoid a typhoon. Encountered heavy weather. Port whaleboat severely damaged.

14-23 Oct

Participate in show of air strength over Formosa in support of occupation of Kirun by the Chinese 70th Army. On 16 and 17 Oct, planes furnished LCAP over Formosa. Observation indicated enemy activity was non-existent.
Launched 25 planes Oct 23 to be based at Marpi Point, Saipan. Anchored in Saipan Harbor, Mariana Islands.

23-31 Oct

Anchored in Saipan Harbor. Shore leave and liberty granted.
It was time to finally relax and let off more steam as the stay on Saipan included shore leave. The point system came into effect and men with enough age and service to total 49 points started to rotate home.
The 1945 voyage of the USS Gilbert Islands covered

practically the full width and depth of the Pacific Theater, from Hawaii to Shanghai and Kyushu to Borneo. The ship eventually docked in San Diego on December 6, 1945 and the Marines started their journeys home by bus and train. The ship's Navy crew took the carrier through the Panama Canal

(see photo) to Norfolk where the USS Gilbert Islands was decommissioned May 21, 1946. She was brought back to service during the Korean War and had a second lease on life as the USS Annapolis in the 1960s.